PAT MAT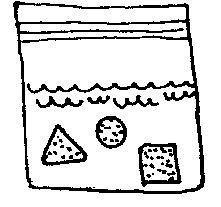 Materials:
Ziploc bag
water
food coloring
sponges
scissors
duct tape
Directions:
Cut sponges into various shapes. Put sponges in Ziploc bag and add water and food coloring. Tape the bag closed.
Ideas for Play:
Encourage Baby to use hands to explore. Make the sounds "ooo" and "ahh" as Baby moves the sponges inside.
PUSH AND PULL TOY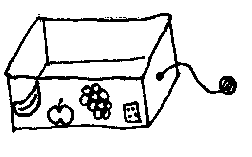 Materials:
small sturdy cardboard box
stickers
magazine pictures
photographs
clear contact paper
ribbon or cording
scissors
Directions:
Decorate the box with pictures or photographs. Cover the pictures with clear contact paper. Poke a hole through one side of the box and thread the ribbon or cord through the hole.
Ideas for Play:
Encourage in and out play. Make car sounds, "beep, beep," as Baby pulls the toy.
JUICE LID MOBILE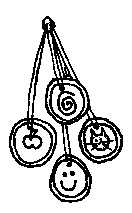 Materials:
four metal juice lids
stickers
contact paper
ribbon
nail
hammer
Directions:
Cover both sides of the metal lids with stickers and contact paper. Make a hole in each lid with the nail and hammer. Hammer the sharp edges down. Poke a ribbon through the holes of two lids and knot the ends of the ribbon. Repeat for the second set of lids.. Hang the ribbons together.
Ideas for Play:
Encourage young babies to bat with their hands or kick with their feet to make the mobile move.
MICROPHONE TUBE

Materials:
sturdy cardboard tube
contact paper
yarn
scissors
Directions:
Put contact paper around the tube.. Wrap and tie short pieces of yarn around the tube.
Ideas for Play:
Make sounds through the tube, such as "bbb". Encourage Baby to use hands to swipe at the ribbons.